UKAEA Supplier Forum 3 July
Join our online supplier event to find out about UKAEA programmes and commercial opportunities.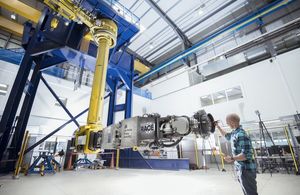 UKAEA's second Suppliers Forum is taking place on Friday 3 July.
Due to the coronavirus, it will be a virtual event but will still provide lots of useful information on our work and upcoming opportunities.
The agenda will include an update on the steps that UKAEA and our Procurement Team have been taking since the start of the pandemic, plus specific sessions on our programmes:
STEP – the next STEP to fusion energy
MAST Upgrade – the new UK national fusion experiment
Fusion Technology – testing technology for future fusion reactors
H3AT – world-leading tritium innovation
RACE – remote and robotic technologies for challenging environments
Fusion Foundations – developing the Culham site.
Registration for the event can be found at the UKAEA events page.